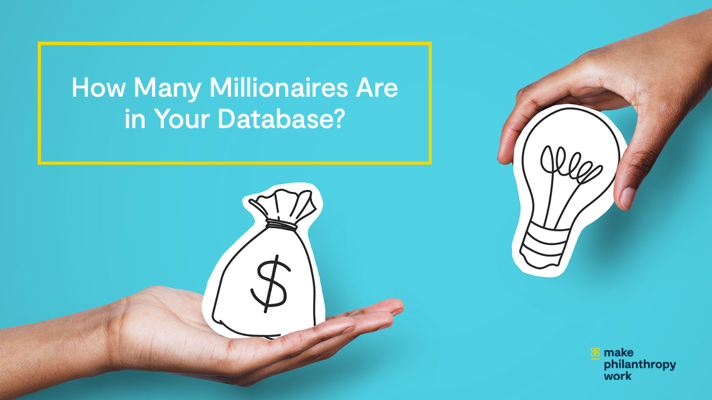 How many millionaires are in your database who love your mission? Nonprofits are accustomed to setting goals. If you work in development, you most likely have revenue goals, expense goals, donor visit goals and ticket sales or event participant goals, but have you ever set a goal to identify the wealthiest individuals in your database? What would it look like if you started by identifying anyone in your database that is a millionaire?
According to a recent Global Wealth Report, an estimated 20 million Americans are millionaires. That's approximately 8% of all adults living in the US.
Could your donors possibly match this percentage? Let's say you have 1,000 donors in your database. Based on the statistics, there may be as many as 80 millionaires already in your donor pool. Do you know who they are?
Some of the most generous millionaires I've met during my nonprofit career have been people who poured their time and energy into their small businesses for decades and now have the fruit to show for their hard work. They have been plumbers, dairy farmers, and gym owners. Many of them live modestly and may not outwardly look like a millionaire. They may have invested early on in real estate or stocks that have performed well. In some instances, they've sold their companies for tens of millions of dollars.
It might surprise you to learn that there are millionaires in your CRM system waiting to be cultivated. They may be a faithful volunteer, an annual ticket holder, a grateful patient, or an in-kind corporate vendor with a heart for your mission.
By identifying individuals who have a high affinity for your organization and also the capacity to give, you will be well on your way to developing a strong major gift portfolio. After all, the best major gift prospects are people who are committed to the mission of your organization and desire to help you succeed.


So, how do you find these hidden millionaires?
A nonprofit can spend years, not to mention thousands of dollars cultivating donors. Still, if the donors they are cultivating do not have the resources to make a major gift or are not inclined to be generous, the effort is in vain. At MPW, we believe too many nonprofits are unintentionally cultivating and soliciting the wrong donors.
How do you determine who your most affluential donors are?
Consider running a prospect screening of your database using a tool like Donor Search. Both large and small nonprofits have the potential to secure major gifts. The question is, do you know who in your database has the resources to make the gift? Many large nonprofits have figured this out, which is why hospitals and universities often have full-time staff members devoted to prospect research. A screening tool like Donor Search uses public data to create individuals' profiles using wealth indicators like home value, charitable gifts, business assets, and SEC insider holdings.
Use your relationship-building and communication skills to learn more about your donors. The best nonprofit fundraisers are excellent listeners. Visit with your donors, board members, and volunteers and ask intentional questions. When they respond, listen. Keep contact reports and mental notes of wealth indicators. Did your donor talk about a vacation home, an art collection, the sale of a building, or an extravagant trip to Europe they have planned for their family? While prospect screenings are a good start, nothing beats interpersonal communication.
Don't overlook your current Major Gift Donors. While it is essential to keep them on your cultivation list and treat them as the special donors they are, don't forget that they most likely have friends in their circle of influence who are also major gift prospects. In my experience, the kind, compassionate and generous people who support our community tend to be friends with others who share the same traits and values.
Finally, don't be afraid to do a little internet research. You will be amazed by the amount of information available on LinkedIn, Facebook, obituaries, annual reports, and hometown newspapers.
Identifying the right donors to cultivate is the first building block of any strong major gift portfolio. By investing time, energy, and resources in pinpointing the donors you and your staff should focus on, you will be helping your organization grow more strategically to achieve your revenue goals.
Are you ready to invest in prospect identification before you spend time, energy, and money focused on donors who do not have the capacity to give large gifts? Imagine what your major gift program would look like one year from now if you started taking these steps today?
If all of this seems overwhelming, consider enlisting support. MPW has packages available that offer prospect identification research and training resources to help you and your team utilize your existing database to create a strong pipeline. Contact us at inof@makephilanthropywork.com to learn more.