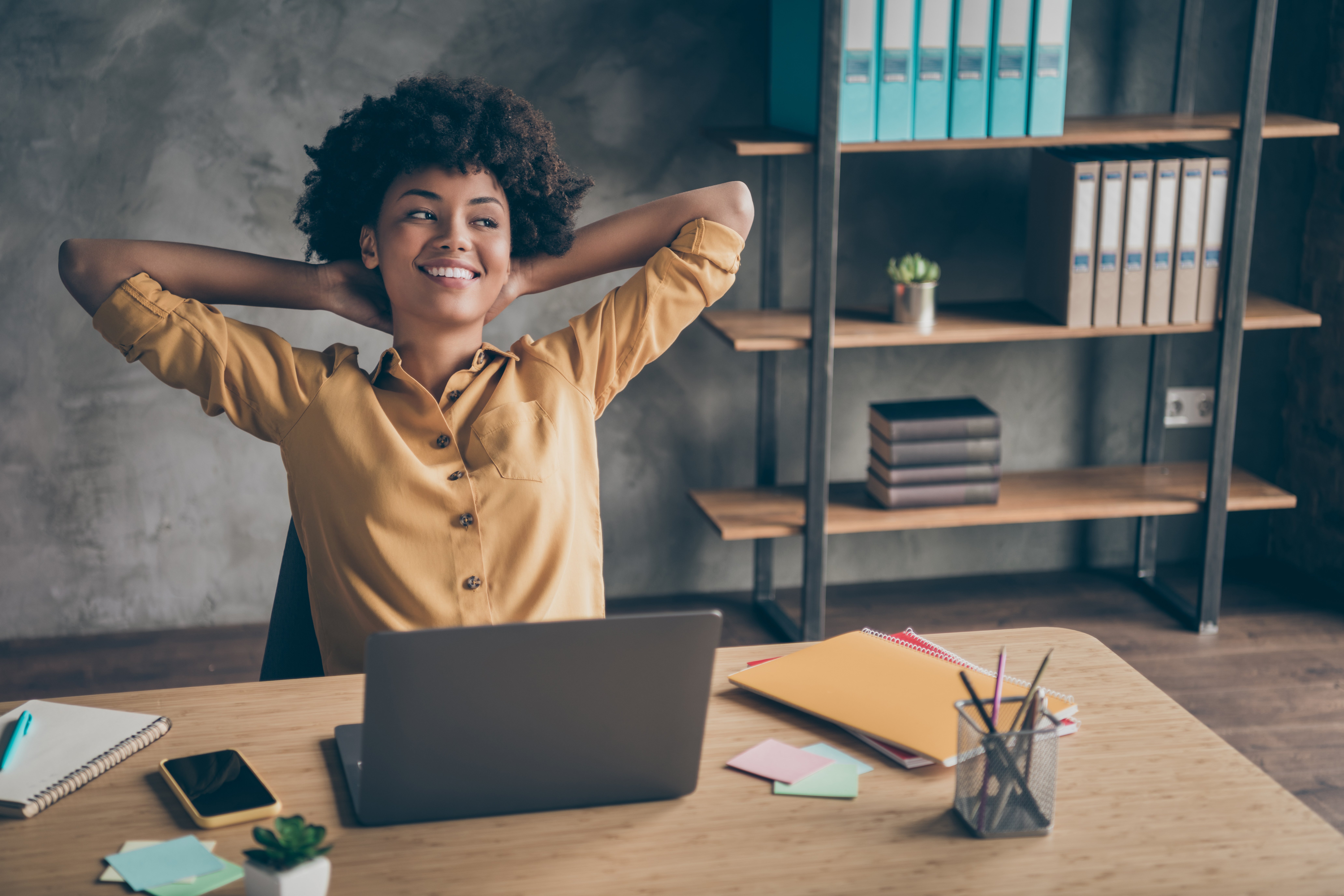 Even before COVID-19 donor engagement was changing as donors and prospects expected more personalized outreach to grab their attention. Now that change is accelerating dramatically as we move towards recovery, and fundraising departments need personalization and customization to effectively connect with prospects. Not to mention, organizations and institutions are struggling with reduced staff and the need to innovate during this time.
Then again, the fundamentals of fundraising remain the same. A fundraising team's time is still best spent building relationships with donors and prospects. So it's in your organization's best interest to utilize intelligent automation whenever possible. Automation extends personalized outreach, improves processes, and accelerates donor engagement. Fortunately, we partnered with Conversica, a leader in conversational AI solutions, to develop the one technology helping fundraising organizations do just that — a Fundraising AI Assistant.
What AI Assistants Can Do For Fundraising Teams?
Perhaps a silver lining of the pandemic is that organizations can take a fresh look at their fundraising processes. There is an opportunity for development operations to innovate for today, plan for tomorrow, and make significant changes to their fundraising outreach. Fundraising teams have always been pushed to do more with less, and today's demands can be overcome with new technology that allows teams to work smarter and not just harder. And best of all, development teams who adopt AI will see this effort serve them today and well into tomorrow.
Institutions of all types utilize intelligent automation. It provides greater clarity and analysis into processes, as well as scalability for program development and internal operations. So a Fundraising AI Assistant is another form of intelligent automation helping organizations better optimize their donor outreach.
How Do AI Assistants Engage Prospects?
They automate the redundant, yet important tasks that fundraisers don't do well and the tasks that are not the best use of their time.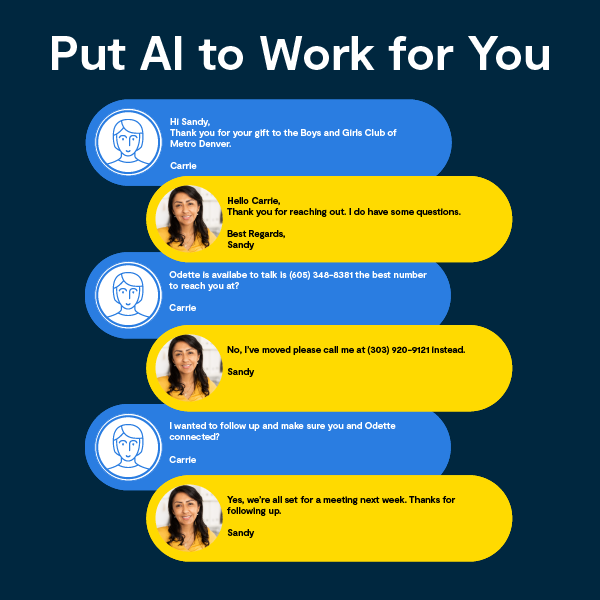 For instance, it can take several attempts to secure a meeting with a potential donor. The average fundraiser moves on after just two to three attempts to reach a donor. And who can blame them? Nobody wants to feel like they are spending time chasing unresponsive prospects. Fortunately, an AI Assistant autonomously manages contacts, politely and persistently following up with donors to either schedule a meeting, point them to a link, or identify their interests.
And if leads wish, they can opt-out of email or text conversations at any time by simply stating that they are not interested or clicking an unsubscribe button at the bottom of the email. As every fundraiser knows, filtering out uninterested prospects is just as important as identifying passionate donors because disqualifying donors not ready to give saves time and effort within your team. Furthermore, AI Assistants improve your data by confirming and updating donor contact information such as phone numbers, emails, and appropriate contacts.
The AI Assistant's engagement begins with a series of outreach attempts and kick-in the moment a prospective donor shares their intent to speak to someone. The Assistant pursues the prospective donor and hands them off to a development officer to build a relationship, secure a gift, or discuss increasing their support.
Following the scheduled meeting or call, the AI Assistant follows up again to confirm the donor got everything they needed. This ensures that the meeting took place and that the prospect is happy with the interaction. In this way, the AI Assistant acts as a safety net ensuring that interested prospects don't fall through the cracks and that donors feel valued. And in these chaotic times, ensuring that no prospect is left behind is incredibly valuable.
By automating repetitive tasks such as sending outgoing messages to potential donors and updating contact information, AI Assistants provide an extra pair of virtual hands to share the workload. The Assistant helps tee up conversations at scale, so your fundraising teams can focus on the highest, best use of their time: talking to the most likely donors.
Better still, AI Assistants outperform mass email blasts and just about any general nurture campaigns in terms of open rates, engagement, and conversions. Fact is, AI Assistants deliver personalized, two-way conversations, whereas the aforementioned solutions are one-way communications that lack personalized and unique messaging. While Assistants come with ready-generated conversations out of the box, they are easily customized for specific campaigns. No matter how developed or unique your fundraising techniques are, you need to optimize to ensure the widest reach and greatest engagement with personalization.
The Augmented FundraisingTeam
A Fundraising AI Assistant is more than a stop-gap solution. It's an essential pillar of an Augmented Workforce in which people and technology work in tandem to drive top-line growth, greater productivity and efficiency, and employee happiness. Intelligent Virtual Assistants can be used at any point during the donor lifecycle. These benefits associated with these objectives extend into the long term for fundraising organizations. In this way, Fundraising AI Assistants can be instrumental in your organization's planning for recovery and revival.
For example, The Boys and Girls Clubs of Metro Denver (BGCMD) needed innovation to personally connect with a significant number of supporters in the community and identify those that wanted to engage further. Partnering with Make Philanthropy Work, they activated a Fundraising AI Assistant to personally connect and engage donors that they could not otherwise because of resource limitations. With straightforward and quick onboarding, the assistant was up and running within 30 days. From the first campaign, the BGCMD engaged 30% of the campaign pool, learning about the interests of 68 donors, scheduling several meetings, and collecting 38 new phone numbers, all within 90 days. Through this AI fundraising innovation, BGCMD has been able to personally connect with several donors to start building relationships toward greater giving.
YMCA of Florida's First Coast adopted a Fundraising Assistant to generate more revenue for their organization. The onboarding process was straightforward and quick, taking only 14 days to get up and running. Within the first 90 days, the YMCA of Florida's First Coast engaged 21 percent more contacts, helped move more prospects to the next stage of engagement by 44 percent, and generated $90K in new revenue in the first 90 days. All in all, their Conversica AI Assistant helped deliver a better prospect experience, a better employee experience and better fundraising results.
The AI Assistant is used by a number of nonprofit organizations, schools, and businesses to accelerate top-line growth at scale, thus enabling employees to enjoy more productivity and better outcomes.
Through personalized, polite, and persistent two-way communication, we are confident that the Fundraising AI Assistant will greatly enhance donor and prospect engagement and give fundraisers the time to do what they do best: connect with qualified donors and prospects and build relationships toward giving.