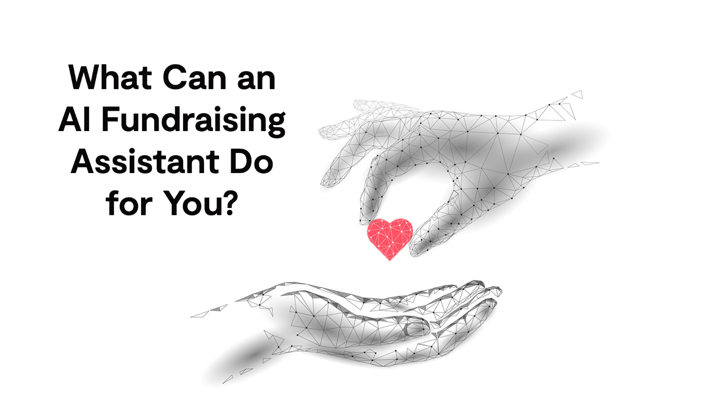 The Benefits of an AI Fundraising Assistant
It wasn't that long ago that artificial intelligence (AI) was viewed as science fiction. Today, most people interact with an AI without even realizing it—through apps, predictive software, analytics tools, and more. In fact, AI is becoming so commonplace it's often invisible.
AI processes information that normally requires human judgment. According to Stanford Social Innovation Review writers, Gideon Rosenblatt and Abhishek Gupta, Artificial Intelligence operates "in a way that mimics how the brain processes data."
But beyond these common examples is another type of AI helping to deliver personalized communications between people and technologies known as Conversational AI.
What if you could arrange meetings with prospective donors at a greatly accelerated pace?

What if you could increase giving day participation and boost personalized event follow-up?

What if you could start a conversation with donors you haven't been able to reach or don't have the time to reach?
AI Fundraising Assistants can help organizations with large-scale donor prospect pools to qualify and further engage thousands of potential donors. Do you have an assistant that can do that?
How Does Conversational AI Help Fundraising?
In a survey of 155 nonprofits sent out in 2017, Heather Yandrow discovered that while online fundraising did represent 25% of all funds collected, the gifts were nearly 33% less than those gifts received after personal contact. Email blasts equaled about a .05% response rate versus a 50% response after a personal meeting with a donor.
Email blasts equal smaller gifts and less engagement.
Personal meetings with donors are key, but fundraising teams need to work smart and acknowledge their limits when securing meetings. With an AI Assistant, your team can get those meetings and focus on the prospects that are most likely to give.
From the first campaign, the Boys and Girls Club of Metro Denver engaged 30% of the campaign pool, learning about the interests of 68 donors, scheduling several meetings, and collecting 38 new phone numbers, all within 90 days. Through this AI fundraising innovation, they have been able to personally connect with several donors to start building relationships toward greater giving.
Make Philanthropy Work partners with Conversica, a leader in solving the challenges of managing large prospect pools and the need for personalized interactions with donors.
This is done through Machine Learning technology that crafts two-way conversations through a 'natural-language process' and allows sophisticated humanlike understanding. Intelligent Virtual Assistants interact, respond, and converse. More specifically, these Assistants can:
Provide prompt, persistent, and personal outreach.

Examine and analyze responses of potential donors for further personal contact.

Advance consistent follow-up with each donor.

Interact with your prospects individually and strategically to curate donors for general and project-specific campaigns.

Cultivate a strong donor base and retain an updated contact list.

Build a deeper connection with donors for major gifts and legacy giving.

Create campaigns that target donors with existing algorithms.

Record responses for immediate follow-up and for reminders.

Manage your fundraising team's time for valuable direct contacts who will advance your mission.
The foundation for a leading urban institution brought on a Fundraising Assistant to assist the fundraising team with personally connecting with tens of thousands of alumni and donors that they were not able to reach on a personal level. To date, they received personal responses from about 20% of the messaged leads, 10% of the pool has expressed interest in learning more (asking for a meeting or link to give), and they secured a $25,000 gift!
Are you ready to ramp up donor engagement for your development team with a Fundraising AI Assistant!