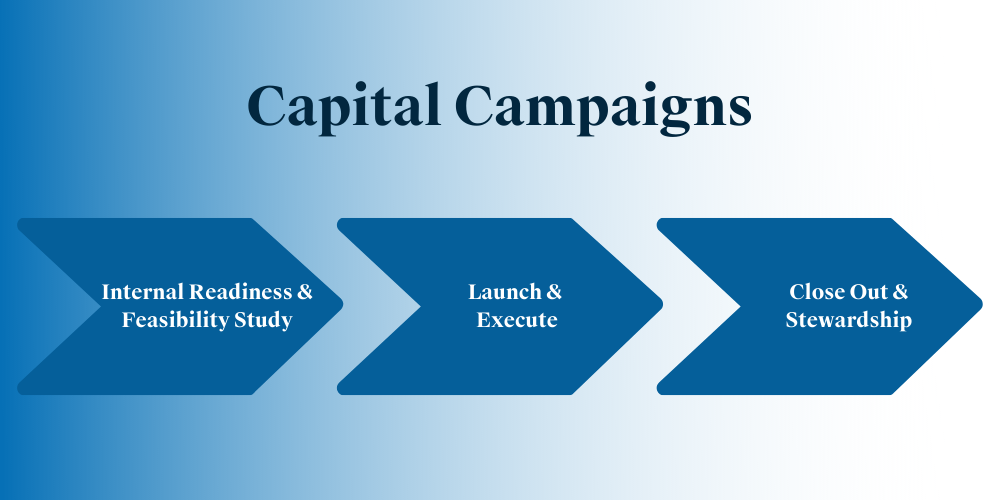 Are you considering a capital campaign during an economic downturn? Here's what we know...
Capital campaigns can be tricky, often intimidating, endeavors–but this powerful fundraising strategy may be a necessary growing pain to take your work to the next level.
Hopefully, if you find yourself considering a capital campaign, this is a positive sign of growth for your organization. This is particularly exciting as we crawl out of the seemingly never-ending pandemic from the last two years and shift from surviving to thriving. As consultants, we are often approached for help with campaigns, and to assess how feasible it might be to raise hundreds of thousands or millions of dollars for a particular cause.
Over the past several months we keep hearing the same question, raising the same concern…
How does the current economic climate impact fundraising for a capital campaign?

Is this the right time to start a capital campaign?
Unfortunately, these are valid concerns.
As mentioned, capital campaigns can be tricky even without the looming threat of an economic recession. While the economy certainly impacts giving, a capital campaign in today's economic climate is still possible. In fact, throughout the pandemic, funders such as community foundations, corporations, and other philanthropic leaders demonstrated a commitment to responding to the needs of the populations who rely on their generosity.
Realizing that concerns surrounding an economic crisis and the ability to raise money for capital are of great concern, we decided to ask foundations directly about how the current state of our nation is impacting their giving. We do this as part of our feasibility study process, in which we identify prospective donors and conduct interviews to get a deeper understanding of how likely they are to fund a capital campaign. Here are a few things that we learned in these conversations:
Many foundations shifted their giving priorities well before the current economic downfall. The pandemic significantly changed the landscape of philanthropy, and many are seeking more ways to ensure their dollars are meeting the most salient needs throughout the community. Now, post-pandemic (sort-of) funders still want to respond to community needs regardless of what the next national crisis might be. In one funders response–
"We are looking at how to balance between emergency and traditional opportunities"
Funders understand that they play a critical role in the work of nonprofits and those being served, and recognize the need for capital as a part of that work. Throughout the pandemic, many funders, foundations, and corporations continued to commit to ensuring the sustainability of services in the community–
"Our goals remain constant rather than pivoting"
One significant reality is that funders experienced varying degrees of financial impact as a result of the pandemic and economic downturn. Some funders have increased their giving, while others have scaled back–
"The company has continued to do well and is giving more than ever"

"We've experienced labor shortages, supply change issues… We might only be able to do a fraction of the donation they use to do."
So What Advice Do We Have on Capital Campaigns?
We do not know if or when the economy is going to bounce back, or what the next national crisis might hold, so if you are holding out for the "right time" to do your capital campaign, then you may be waiting for a while. Capital campaigns are not impossible. However, they do require planning and strategy. Here are some things to keep in mind.
Be able to explicitly articulate the need you address in the community you serve and the impact of your work and how the capital project is critical to the ongoing success and growth of your work. Why do you need this [building or renovation] to carry out your work?

Funders want their gifts to make the biggest difference possible. Consider potential and existing partnerships, and community engagement/empowerment opportunities, and access to resources– How will the results of the campaign strengthen or improve partnerships and opportunities?

Recognize and embrace the marathon, not a race mentality. Because capital campaigns unfold over time (months to years), we have no way of predicting the future economic or cultural climate. Use this time to proceed with a strategy and focus on relationships– funders will continue to give and will be most likely to contribute to a campaign where they have an existing relationship.
If you are considering a capital campaign for your organization and need help along the way, Make Philanthropy Work would love to help you succeed. Our team of experts can guide you through feasibility studies, strategy planning, and implementation support.