Here's the thing we all know: our realities move too fast. Our organizations are ever changing organisms that sometimes feel as though they take on a life of their own. Reacting and responding to stimuli that can make it hard to not feel entirely overwhelmed. And as the leader, we spend much of our time developing the people around us. Which means we're the last people to actually get a review, if we ever do. And when we do, it is often focused on where we're "missing the mark" or where we can "close the performance gaps". To compound the situation, we usually don't get any coaching or support about how to actually make progress around those goals. There's no time left in anybody's day. There's no fuel left in the tank. So the one person in the organization who needs the most support probably to help drive the organization never gets to prioritize themselves.
This reality is one of the things that drove me into coaching for school and non-profit leaders; and having found (and been certified in) Shift+ 360 I'm really excited to bring it to you all.
What is Shift+ 360?
Because the truth is, it's a chance for you to do something we've never been able to do before in one fell swoop: Engage your team, energize your work, and invest in yourself. The SP360 is different than any other feedback approach - it uses a focus on strengths and is solution-focused to understand how you can be even more effective. It means that during this process we will engage colleagues around you in becoming active agents and allies to your change.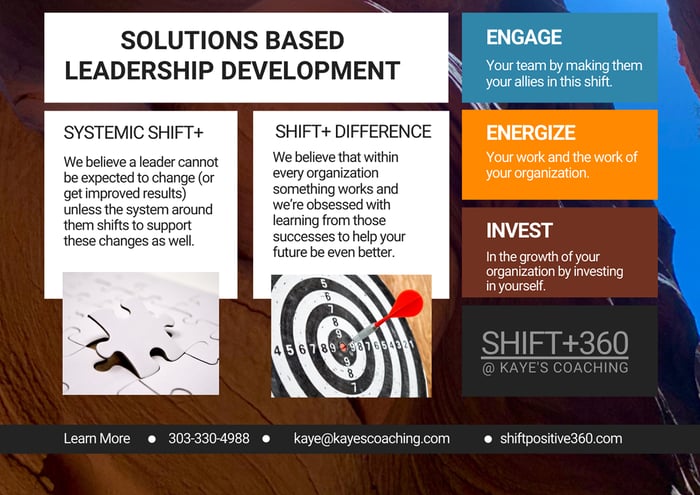 Become a Change Agent
Yes, you read that right: to your change. Why 'to'? Because part of the difference with a SP360 is that we believe we cannot expect the leader to change (or get improved results) unless the system around them shifts to support these changes as well. Together, with your people (allies), you will become the change-agent you were waiting for. Together, you will enact change that is systemic, transformative, and iterative.
We believe that within every organization something works and we're obsessed with learning from those successes so we can help you carry forward the best of the past in order to shift the future.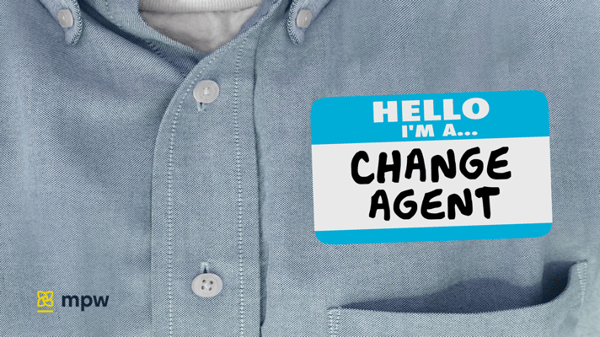 The Time is Now
If you're ready to focus on what's right, what is working and what to do more of (vs. what is broken and not working) then this is the process for you. We believe it is not just about the individual client (you) - it is about creating an environment that is conducive to the client's progress and engagement; creating fertile soil for successful growth. It is about creating deeper, lasting change, faster, and with more dialogue, disclosure, and depth of thought by all participants - all allies in each other's success.
Reach out now to learn more and get access to special rates available only to members of MPW's newsletter.