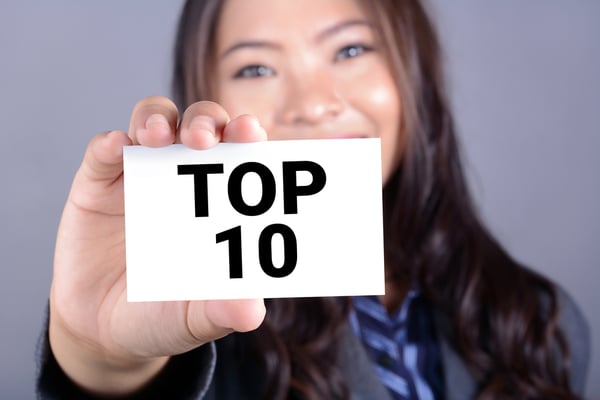 We have spent years analyzing data, connecting with donors, building relationships, and have secured hundreds of millions of dollars in gifts. Having worked with organizations of every size and purpose, we can tell you that these 10 steps will build stronger relationships with your current and potential major gift donors. So, here it goes…
1. Spend time with the most likely to give
Not everyone wants to make a major gift to your organization, and not everyone can make a major gift. So much can stand in the way between you securing your next major gift: college tuition, job loss, other interests, health issues, and the list goes on. Be sure you are working with donors that are the most likely to make a major gift and are ready to do it (for determining this see my blog on major gift fundamentals). The rest of the donors that are not ready or don't want to increase their giving can be placed in the annual giving pool. You still need to give these folks a lot love, but they are just not a major giving priority, and should be taken out of your portfolio.
2. Utilize a consistent, effective process
Fundraising is a process. Once you understand and follow a well-defined plan for engaging with people in a way that is meaningful to them, you will have developed a process. This means don't handle each donor engagement differently, but do what has the highest probability of producing higher giving rates. You can't do this if you don't have a process for your major gift work. Think about it, write it down and follow it. The process should include 1) how are you going to uncover the donor's intent, 2) how will you deepen their engagement and therefore 3) gain a greater commitment to your organization.
3. Use a fundraising strategy to connect people, not "sell" to them
You are not persuading and convincing prospects to give, but determining their interests. As John Pepperdine states in his blog "I Never Talked Anybody Into a Gift." Manipulative and persuasive tactics don't help anyone. People either see right through them, or if they are "persuaded" by a gimmick it will eventually cause bad feelings, broken relationships, and the donor will move on to another organization that will treat them better. See recent fundraising trend reports for dropping donor retention numbers.
4. Gain a conditional commitment to discuss giving at the beginning of the fundraising process
Oh, physician heal thyself…. So many times have I convinced myself that my organization is a good fit for a potential donor. Only after months if not years of work I come to a conclusion it's not of interest to the donor. When it comes to major giving don't waste time with prospects that do not believe in your organization or don't have a desire to become more involved. At the first meeting or discovery meeting ask them point-blank about their interest in becoming involved or getting more involved.
5. Determine exact giving intentions of potential donors, including capacity, timing, and decision-making process
Spend time getting to know the people that are interested in your organization. Seek to understand their desire to make gifts and the range they have in mind. Ask the right questions to uncover if they are ready to give, and if others will be involved in their giving decisions. Ask this directly, "do you have a giving range in mind" if not, "we are seeking an investment in the range of ---, does this fit with what you have in mind." "Will you include anyone else in making this giving decision."… "For our budgeting and timing purposes can you give me a sense of when you will be making the gift."
6. Earn Trust and Respect
People give to people. They give when they feel they are being treated with respect and kindness. Don't try to manipulate donors, don't even try to persuade. It's one of Seven Mistakes Fundraisers Make. Stay away from gimmicks and tricks; keep it real. And do what you say you are going to do. If you bring your authentic self and don't pressure and cajole, donors will respect and appreciate you.
7. Determine what prospects care about why
Seek to understand (2nd time I've mentioned this). Bring those ears with you and spend the majority of the time listening. Ask probing questions to understand what is truly important to them, what is meaningful, what is their need to make an impact. Ask why this is important, why it resonates, and why your organization might be the place for the person to make an impact. Remember, donors might not be giving to your organization because they care deeply about it. They might give because of the impact your organization creates and how they can achieve something meaningful THROUGH YOUR ORGANIZATION.
8. Start closing at the beginning of the engagement process
As Stephen Covey says, "Start with the End in Mind." This helps with thinking through the process of engagement and building a strategy for developing a greater connection. It also helps the potential donor understand that you are connecting with them because you want to deepen their connection and commitment to your organization. Let them know this case. Don't dance around the fact that you are there to build a relationship and gain a gift commitment. Tell them that! It's your job! They know what someone with the words philanthropy, development, or advancement in her/his title does.
9. Try to eliminate the necessity to overcome objections
By following the eight above steps, you are naturally eliminating the need to overcome objections. You have a process in place. You are making your intentions clear from the start and not using persuasion and manipulative tactics. You are seeking to understand the donor's motivation for giving, the potential range, and timing. You are not wasting time with prospects that don't care to give to your organization, and only spending time with those that love you most. When you get to the ask, all barriers should be broken down, trust should be built, and you know why, how, where, when the donor wants to invest in your organization.
10. Strive for constant improvement and make your engagement process stronger
Strive to continually improve what you are doing. Check what's working and what's not. Change the stuff that doesn't and focuses on what does. Try new things. Take those small calculated risks. Always think about how you can create greater experiences for the donors to your organization.
So what do you think? These are just some of the methods in which you can begin to improve your development efforts, and I invite you to comment below on other ideas and experiences that you feel would be effective.